Project Dates:
2006-present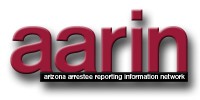 The Arizona Arrestee Reporting Information Network (AARIN) is operated by researchers from Arizona State University at the west campus. AARIN is modeled after the National Institute of Justice's (NIJ) ADAM program. Based upon the proven research model employed by NIJ, the AARIN program provides a cost effective means for an early monitoring and warning system pertaining to drug usage of offenders in Arizona. The purpose of the project is to provide meaningful information to Arizonan researchers and policy makers in assessing the impact of substance abuse upon criminal and juvenile justice systems.
The Maricopa County Board of Supervisors currently supports data collection at three adult and two juvenile intake facilities. Data collection for AARIN began in January 2007 at the Central Intake of Maricopa County's 4th Avenue Jail, the local city jails in Glendale and Mesa, and the juvenile intake facilities located at Durango and the South East Facility (SEF), gathering information from males and females, adults and juveniles. It is anticipated that the AARIN program will be extended in other regions of the state. Pima County was an ADAM site from 1998 to 2003.
Purpose of AARIN
The Arizona Arrestee Reporting Information Network (AARIN) is an ongoing project designed for the purpose of collecting, analyzing, and reporting drug use and drug related activities of arrestees in Maricopa County, Arizona. AARIN interviewers engage recent arrestees in in-depth survey interviews that focus primarily on the arrestee's drug use and related behavior, in addition to collecting urine specimens to determine the type of drugs the arrestees currently use.
Research Staff
Charles M. Katz, Ph.D.
David Choate, M.A.
Lidia E. Nuño, M.S.
Michael D. White, Ph.D.