Stay Informed
Sign up to receive our newsletter and important announcements. Choose all topics or just the topics that interest you.
What's New?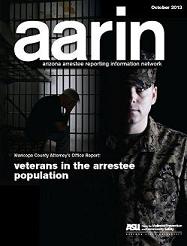 A new report uses interview data from the Arizona Arrestee Reporting Information Network (AARIN) and characterizes the problems and prior experiences of vets, comparing veteran and nonveteran arrestees along a range of demographic, background and criminal behavior measures.

Director's Welcome
From Charles M. Katz
Welcome to our center. Currently, the Center is engaged in several local, state, and international research projects aimed at reducing violence.
While other institutions may single out for study a particular facet of violence, the Center for Violence Prevention and Community Safety has developed a distinct organizational model recognizing that interpersonal violence has no favorites. Solutions must cut across all boundaries of age, ethnicity, gender, economic status, and locale. That's why prevention solutions developed at the Center address all forms of violence, and research and development efforts are linked with other ASU research centers.
News & Events
Register Now for June 12th NACOLE Academic Symposium in Phoenix, AZ
The National Association for Civilian Oversight of Law Enforcement (NACOLE) and Arizona State Universty (ASU) School of Criminology & Criminal Justice are pleased to announce the next event in NACOLE's academic conference series.
This one-day symposium will be held on Monday, June 12, 2017 in the A.E. England building located on ASU's downtown Phoenix campus. It will feature the best of contemporary academic research on a variety of subjects of interest to the field of civilian-led accountability, looking beyond the misconduct investigation and review process. More broadly, the goal of the symposium is to set a research agenda for the field, place scholars in conversation with practitioners and funders, and to determine a course for making the best possible use of the wealth of law enforcement data that is publicly available. Select conference papers will be published in Policing: An International Journal of Police Strategies and Management and other venues as appropriate.
Time and seats are limited, so make sure to register today by clicking the button above OR by visiting the Academic Symposium page of the NACOLE website, which can be found HERE.

Registration for this event is $100 for NACOLE members, $125 for non-members, and $50 for students. Registration includes a continental breakfast and boxed lunch.

If you'll be traveling to Phoenix for the symposium from out of town, you can find information regarding our block of hotel room on the NACOLE website. For any other questions, please contact Cameron McEllhiney, Director of Training & Education, NACOLE, at (317) 721-8133 or mcellhiney@nacole.org.

Make sure to be a part of this event - REGISTER TODAY!
Stay Informed
Sign up to receive our newsletter and important announcements. Choose all topics or just the topics that interest you.