Following a number of high-profile, in-custody police killings of unarmed black men in 2014 and 2015, police departments began searching for a way to enhance accountability and transparency. Many agencies began deploying police body-worn cameras (BWCs) to achieve those goals. Proponents of the technology argue that it can lower police use of force and citizen complaints, encourage transparency and accountability, de-escalate situations through a "civilizing effect" for both officers and citizens, and aid in review of critical incidents.
In 2015, however, there were only a handful of studies examining police BWCs. To address this research gap, the Laura and John Arnold Foundation (http://www.ljaf.org) funded several rigorous research projects dedicated to assessing the impact and consequences of police BWCs.
Dr. Michael White of the CVPCS and his research team conducted a two year randomized-controlled trial of BWCs in Spokane, Washington, and Tempe, Arizona. In both departments, leadership had already decided to implement BWCs and agreed to allow the research team to randomize the deployment of those cameras. Each department's patrol division was randomly assigned to receive their cameras either in Phase 1 (Spokane: May 2015; Tempe: November 2015) or six months later in Phase 2 (Spokane: November 2015; Tempe: May 2016). The research team then tested the impact of BWCs on a number of outcomes.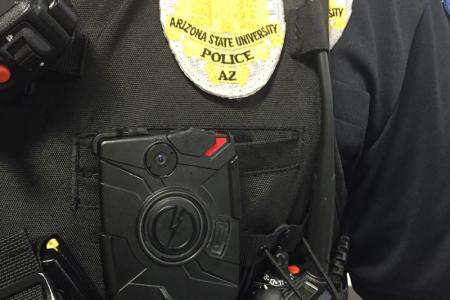 The effect of BWCs on use of force, citizen complaints, officer and citizen injuries, and assaults against officers
Perceptions of the technology among police officers, citizens, and external stakeholders
The use of BWCs in sentinel events review and violence de-escalation
The challenges of implementing BWCs among specialized units
Dr. White and his team have published numerous papers based on the project, and have presented results at national meetings, both academic and practitioner. Below are a few selected citations for their work.
White, Michael D., Gaub, Janne E., & Todak, Natalie. (forthcoming). Exploring the potential for body-worn cameras to reduce violence in police-citizen encounters. Policing: A Journal of Policy and Practice. doi:10.1093/police/paw057.
White, Michael D., Todak, Natalie, & Gaub, Janne E. (forthcoming). Assessing citizen perceptions of body-worn cameras after encounters with police. Policing: An International Journal.
Gaub, Janne E., Choate, David E., Todak Natalie, Katz, Charles M., & White, Michael D. (2016).
 Officer perceptions of police body-worn cameras before and after deployment: A study of three departments. Police Quarterly, 19 (3), 275-302.
Gaub, Janne E., Todak, Natalie, & White, Michael D. (2017). Beyond patrol: Exploring the perceptions of police body-worn cameras among officers in specialized units. Center for Violence Prevention and Community Safety, Arizona State University.
Buren, Brenda, Johnson, Noah, & White, Michael D. (2016). Body-worn cameras: A best practices approach to implementation and assessment. Presented at the International Association of Chiefs of Police Meeting, San Diego, CA.