SMART Policing Initiative
Project Dates: 2010-present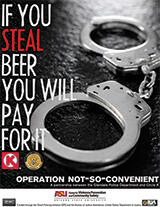 The SMART policing Initiative (SPI), sponsored by the Bureau of Justice Assistance (BJA) seeks to focus police resources on places and people that are most responsible for crime and violence.  Under a national competitive solicitation, BJA has awarded SPI grants to approximately 30 law enforcement agencies throughout the United States.  Of these agencies receiving funding the CVPCS is working with the Glendale, Arizona Police Department and Phoenix, Arizona Police Department to provide training, technical assistance, and evaluation to each agency.
Glendale SPI I:   Glendale Police Department has been funded twice under BJA's SPI program.  For the first SPI project, Glendale primary objective and strategy focused on reducing theft and burglaries at local convenience stores and reducing crime at two "hot" apartment complexes, primarily through the work of their Department Neighborhood Response and Downtown squads.  To address convenience store crimes, the Glendale Police Department educated leadership from the Circle K convenience store chain on safer business practices and conducting recurring surveillances stings at hot spot Circle K locations.  To address crime at the "hot" apartment complexes, Glendale Police Department collaborated with apartment managers to improve management practices, enhance the social and physical environment, and evict problem tenants.
Glendale SPI II:  The ongoing SPI efforts during the first project uncovered two related and persistent problems in the same target area in Glendale. The first involves repeat, career offenders who reside in or near the target area and commit crimes in the area, many of them violent, on a near daily basis. The second problem involves organized retail theft, both at convenience stores and large retail stores (Walmart, etc.). The goal of the this project is to broaden the existing SPI effort beyond the NRS and Downtown Squads to include additional specialized units, and to harness the resources of this new organizational framework to target repeat violent and property (retail theft) offenders in the target area.
Research Staff
Michael White, Ph.D.
Charles M. Katz, Ph.D.
David Choate, M.A.
Joanne Nelson
Phoenix SPI: There are two problems the project seeks to address: domestic violence and officer accountability.  The project will use innovative technology that would address both these issues through the purchasing of 50 on-person video cameras that record the interactions between community members and officers. The camera is worn like a blue-tooth device, around the ear with the camera looking in the same direction as the officer.  This captures events, suspect and victim interviews, and interactions from the officer's perspective. 
Research Staff
Charles M. Katz, Ph.D.
David Choate, M.A.
Justin Ready, Ph.D.
Media and News: 
ABC15 Reports on valley Circle K crime hotspots.